5 TIPS ON STARTING A BLOG & INSTAGRAM ACCOUNT | #THEMOMBLOGCOLLECTIVE WEEK 1
I'm excited to share a new series here on my blog called #TheMomBlogCollective. Twice a month, a group of 10 of us will be sharing a blog post on the same topic -- related to blogging, Instagram, working with brands, making money, photography, motherhood and more. More than almost anything else, each of us gets asked how we started blogging, what tips we have for someone looking to start, how to work with companies for sponsored posts and more, so those questions are the starting point for the series.
Each month we will feature different guest bloggers in addition to our core 10. My favorite part is that while we will all be answering the same questions and writing about the same topics, it will give each of you a wide variety of perspectives. We each have a different blogging style, photography style, schedule and more so it will be a great opportunity to read everyone's posts and then figure out what works best for you. And if you have a topic you'd love to get an answer to in our series, search the hashtag #TheMomBlogCollective on Instagram and comment on any one of our photos under that hashtag to let us know! You can also leave comments on our blog posts.
To kick off the series, we'll each be sharing 5 Tips on Starting a Blog and Instagram Account.
1. Pick a Name

Originally I picked Kole Impressions because it was the start of my photography business. We lived in a tiny studio apartment in Chicago and I was attending the Chicago Art Institute and I was launching my photography business. At that time my blog was just to keep up with family and friends and I didn't really realize what it would become a paying brand. I'm currently in the process of changing my entire brand and name and let me tell you, it's not for the faint of heart! So even though, it is possible to change your blog name try your best to get it right the first time so you don't have to change it in the future. Stick with something that is simple and explains what you want to write about but that you are able to see growth with. Also, make sure it flows with all other social media accounts. This is one reason why a lot of people just pick their name and turn that into a brand. Also, before picking your name go onto multiple social accounts and make sure its available on every platform.
 
2. Just Start

The best advice I can ever give is to, just start. You have something you want to share, then simply start sharing. Don't worry about how many people are reading or what your friends will say. If you have a passion about something don't let fear of putting yourself out there hold you back. I got made fun of a lot by extended family (still do) and some friends and I totally still feel embarrassed taking photos sometimes, but blogging is something I'm passionate about and I'm not going to let fear hold me back from sharing. Also when blogging started paying our bills I really stopped caring about snarky comments. (we will be chatting about how to make money from blogging in the next few weeks)

The world of Social Media can be extremely intimidating and it's easy to get caught up in everything you may not know. I started without knowing anything on a platform called Blogger and googled my little heart out. Nowadays there are so many Youtube videos, tutorials, and blogs about how to blog to help you figure out things like HTML or coding. You can also stick with something like Squarespace where templates are pre-made for you and very simple to understand.
 
3. Be Authentic

Always stay true to yourself. Continue to be authentic and you will grow a following. I whole heartedly believe staying true to yourself and sharing about what you love will help you connect on a personal level with your followers. I've gotten opportunities to work with some huge companies willing to pay triple our mortgage but have turned them down because they didn't fit with our lives or went against everything I believed in. Was it hard turning down money? Yes, but I also don't ever want to come off fake and I know more opportunities will arise when I stay true to myself. Growth can happen fast sometimes and we all make mistakes and learn along the way. Before posting, ask yourself is this something you're proud of? Does this line up with why you started blogging?

Alongside with being authentic, be consistent. Make a blogging schedule and try to always post on the same days. Stick to a schedule, for example, post about your weekend on Monday, food on Wednesdays, and fashion on Fridays. This way your readers have an idea what to expect and be waiting for.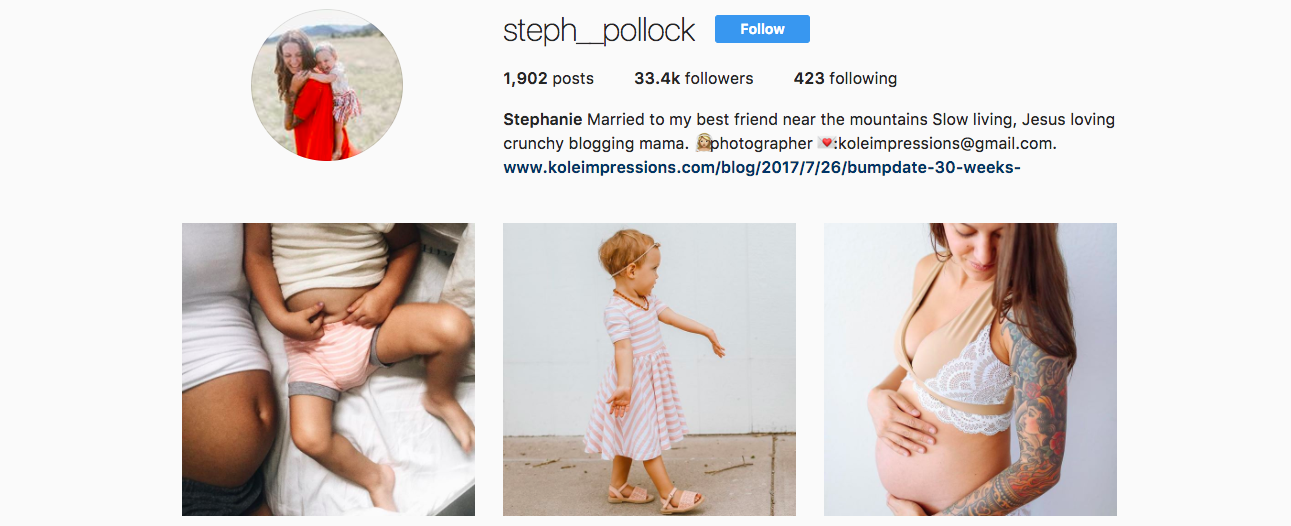 4. Share on all Social Media platforms

Start a Facebook, Instagram and Pinterest page for your brand and make sure they are all linked. This is a lesson I learned late in the game and I still feel like I am playing catch up. By connecting all your accounts, even if you only have 5 followers you are exposing yourself on more platforms and sharing your posts to be seen by more people in return drawing more traffic to the content you've worked hard to produce
 
5.Instagram

Instagram these days is a giant platform full of opportunities. It is also full of frustrations and always changing but I personally have had the most success on Instagram. Instagram is one of the best ways to make new friends and become a paid influencer for brands. Continue to be authentic, find your community, find a set way to edit your photos so they all flow and keep posting. Take some time to look at what some of your favorite accounts are doing and be encouraged to try them out on your own account. For instance, what hashtags are popular or what accounts are they tagging (ex @ig.motherhood @motherhoodrising @dailyparenting) in their photos to possibly be re-posted. Ask some of your favorite accounts to do a #followfriday or #momcrushmonday. If you are genuinely trying to connect and find opportunities you will. It all starts with putting yourself out there and sharing content.
 
You can find all the other blog posts linked below:
A Blessed Nest | @blessednestblog
Cultivate Motherhood | @cultivatemotherhood
Hello Baby Brown | @hellobabybrown
Occasionally Perfect | @occasionally_perfect